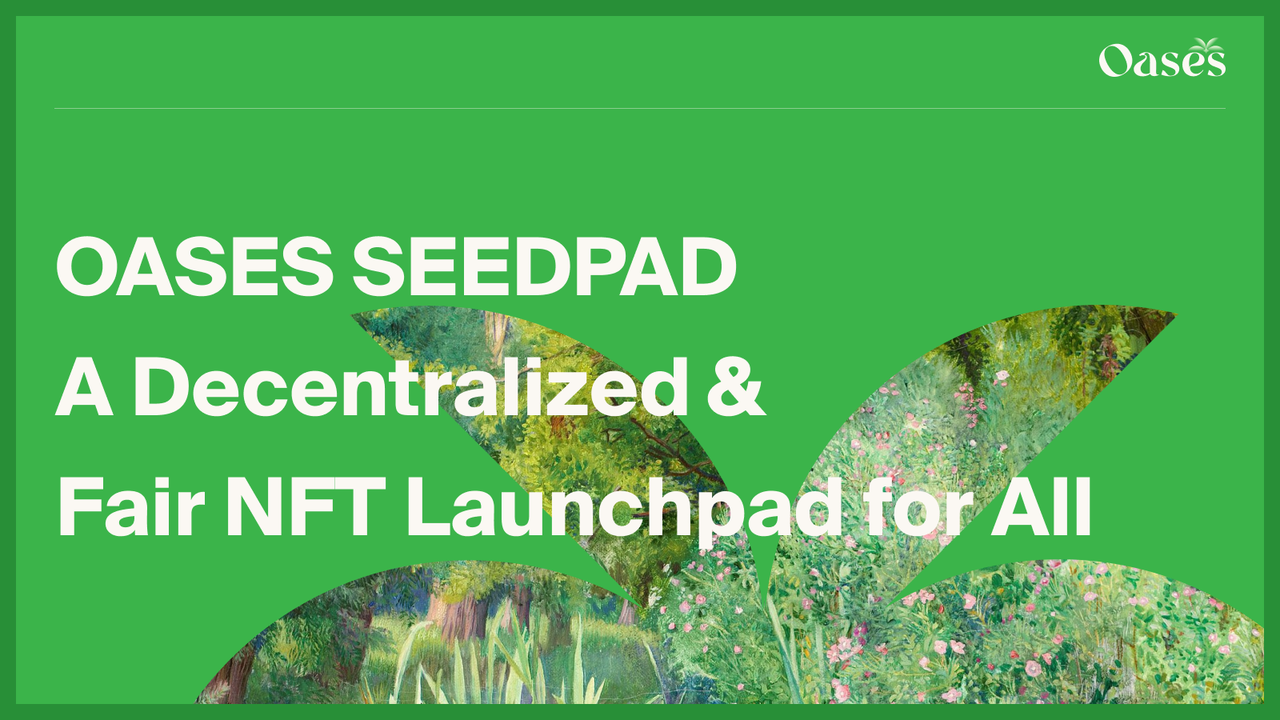 Dear Oases users,
We are excited to announce that our innovative NFT launchpad feature, Oases Seedpad, is now live on the testnet!
The Seedpad is designed against the background that most current NFT sales cause users to fight intensely either for whitelist spots or the NFT itself. For many, it is a challenge to get hands on one of the digital collectibles or easily invest in a collection's future. Buying an NFT usually involves a lot of disappointments and surprises of many kinds. Some well-known issues are that the competition for block space easily causes momentary and appealing rises in gas prices, and the whitelist selling mode is constantly criticized for being centralized, without transparency.
The Seedpad brings functionality that could be described as
an INO tool for NFT collections, a way to crowdfund projects while it's as much investing in future royalty earnings as the NFT itself.
This is how it works. In the first step, NFT creators issue more "tickets" than the number of NFTs in the collection. Users then buy the tickets instead of the NFTs directly, effectively lowering the price. Subsequently, the platform initiates a decentralized draw where some ticket owners will be luckily allocated NFTs while the ones missing out still share the royalties from all the future secondary market sales of the NFT collection.
By lowering the threshold of participation while creating a broader range of stakeholders in a new NFT collection drop, this mechanism provides
a more streamlined and simplified process to issue NFT collections
for projects and creators. We've designed this feature to grant all participants a chance to obtain a piece of rare and expensive digital art at ultra-low cost; and even if they fail to win, each of them is still able to get a proportion of the following royalties on this item, which, for all everyone, is a combination of fun and income opportunity.
On the other hand, Oases Seepad seeks to help both big and small projects and individual creators issue NFT collections. It's
a tool that avoids gas wars and treats each user more equally.
Issuers will be guided through the process, automatically get smart contracts deployed on Ethereum, and set all customizable parameters like numbers of tickets. The projects or creators only need to fill in the necessary application information and upload the specific content of each NFT. This makes the process of taking creations from the drawing table to NFTs and distributing them to the market very easy, even without any direct knowledge of blockchain technology.
Through Seedpad, the whole NFT drop process can be completed in a
decentralized, transparent, and fair
manner. If you are NFT issuers or artists who are seeking exposure to your artwork and an innovative channel for your NFT drops, we sincerely welcome you to email us at
<

[email protected]

>
and apply to participate in Oases Seedpad!